I'll be honest, I was insanely jealous when Alison Rosen's podcast first came out and she instantly was on the top of the itunes podcast charts with the luxury of being part of Adam Carolla's digital network. Not everyone has the benefit of Mr. Carolla's huge audience to help them with the debut of a new podcast, but at the same time Alison earned her spot as the news girl and excellent contributor to the King of Podcast's flagship program. Before her podcast debuted I had already checked out many of the archived episodes of her popular Ustream show, which had the same name as her podcast, and enjoyed her laid back, down to earth style which is also the case with her podcast. The main difference between the two shows is structure and sound quality, plus a great lineup of guests.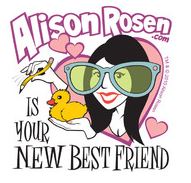 Alison has a great rapport with her fans and often starts the show with fan feedback from her itunes reviews, which is a great way to encourage fans to review a show, and by actually calling her listeners and having extended conversations with them. If regular bits or segments are something you enjoy on a podcast then this show is for you, because Alison has many set bits and segments that almost always involve more fan feedback and participation. The real meat of the show is the interview portion. Unlike Adam's show, where Adam rarely has in depth conversations or interviews with his guests, Alison has extremely in depth and frank discussions with the guests she gets on her show. Once again benefiting from being on Adam's network, she gets a great lineup of guests which includes some top notch up and coming comedians as well as the assorted actor and a fantastic episode with Dr. Drew as well. The best part of the guest portion of the show is that they don't play out like a typical interview. Instead, Alison and her guests have frank discussions in a conversational manner which is some of the best parts of podcasting, which benefits from the overall lack of structure and time restraints. While some of the more amateur podcasts suffer because of this lack of structure and very often go off the rails, ARIYNBF manages to stay on track and the guests become very comfortable and reveal lots of intimate details of their lives. The conversations on the show are very easy to relate to for the listener. Subjects like childhood, the road to success, failure, sex and relationships are all discussed and give us a look into the inner workings of the guests that we would not ordinarily be exposed to through their time on stage or other projects that we may know them from. Clearly Alison has a knack for making her guests feel very comfortable, even getting a seasoned media veteran like Dr. Drew to reveal things about himself that he rarely talks about on other shows.
Overall I would say that Alison Rosen is Your New Best Friend is a must listen, not only if you are an Adam Carolla fan, but if you are a fan of great conversational style podcasts with great guests. After only a few minutes of listening you will feel connected to Alison and you really will feel like she is your new best friend. Alison has released nearly eighty episodes since the show premiered last year and has had tons of fantastic guests, but here are a few of the essential episodes if you are new to the show.
Bald Bryan
Adam's sound effect guy joins Alison for a very good conversation about life that is a must listen for any Adam Carolla fan.
Lynette Carolla
This bonus episode was one of the more fascinating episodes I have heard so far because Lynette gives us some insight to what it is like to live with Adam and we hear about a side of Adam that most of us big Adam fans might not know about.
Dr. Drew
Rarely do we actually get to hear about Drew's life on the many shows and podcasts he is on, but Alison gets the Dr. to really open up about himself on this one.
Check them all out on her itunes page.