In the 80's action shows with pseudo violence were the king of the hill. Shows like A-Team were #1 in their time slot for years. The cartoonish violence was a trademark of 80's action shows where thousands of bullets and hundreds of explosions accounted for very few serious injuries or deaths.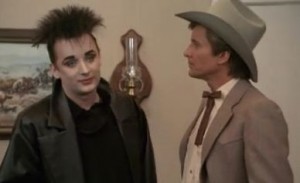 This week we watch one of the most infamous episodes of the series which featured a cameo by androgynous pop star Boy George.  The cameo made little to no sense but the A-team were looking for ratings and Boy George and Culture Club were trying to keep their careers alive as the late 80's approached. Get your Netflix, Hulu or DVD ready* and enjoy the A-Team Commentary Podcast!   Season 4: Episode 16- "Cowboy George"
*Line our audio up with the playback online or your DVD.
Podcast (shutupandwatchthemovie): Play in new window | Download
Subscribe: Apple Podcasts | RSS